We are a participant in the Amazon LLC Associates Program, an affiliate advertizing program designed to provide a means for us to earn fees by linking to Amazon.com and affiliated sites. Furthermore, this page may contain other sponsors, affiliate, and/or affiliate links. This means if you click on a link (ad) on our site, we may receive and commision. As always, opinions are my own and are sincere. You can read our disclaimer and private policy. We also have our disclosure policy.
Black Friday and Cyber Monday is the second chance in a year to get the best price purchasing learning materials for my children after the Back to School sales. From 10 years of Black Friday to Cyber Monday previous sales, I got some Cyber Monday and Black Friday Homeschool Shopping Tips to share.
Black Friday Homeschool Shopping Tips
It is not easy to control your shopping desire during the cyber weekend. There will be a lot of offers alongside the streets, shop windows, your inbox, and your social media feed. You might be tempted to purchase them if you have an unlimited budget. To control the balance between your budget, your needs, and your wants, here are 7 Black Friday Homeschool Tips for moms to keep sane.
Observing The Market Sales
Around 2 weeks before the Black Friday, it is great to wander around the web as there are some sellers that have already announced the Black Friday sales. Don't forget to take a note for the sales. Rather than having sales rain at once, it is great to know the market offers previously.
Check Your Children Needs
It is similar with the planning for material process, try to get the resources frugally although they are mouth watering. Check your children's need and interest. Try to think further so that you are not going to waste money and space. You might want to keep the items for stock, but please consider the chance and priorities of purchase.
Calculate the Budget
Of course this is very important for you to avoid the bankruptcy from the sales. Without budgeting you might loose your saving. Budgeting will help you controlling yourself in spending the money much better.
Think about The Delivery
I have never purchased anything which is not electronic books since I live overseas. Therefore, I don't have any trouble with the delivery process most of the time. However, I sometimes have trouble with downloading the files. To anticipate, I just download everything delivered in my email as soon as I get the links. Make sure that the internet connection is on the prime time since some links have limited try and quantity to download.
However, we need to notice the delivery process very closely to make sure the products arrive and are received on the right place and time considering the dramatic increase of sales at the same time.
Plan Your Shopping
Make a shopping list to make sure you get the right things on the right time and place with the best price. When you don't plan your shopping, you will lost easily due to a lot of offers. They will give you hard temptation. Compare one vendor with others to get the best quality and quantity. Keep your coupon codes and
Beware of the Time
The sales around the Black Friday and the Cyber Monday are usually started and ended punctually. They usually just have 3-4 days. Some of the vendors will steal the starting time. Instead of starting on Friday, they might start on Monday with some hope of getting more chance to get customers. Don't miss the events for all items on the list. The black friday sales might be merged with the Thanksgiving sales.
Organize Your Purchased Items
You might have a lot of possibilities in homeschooling items in the shopping. The longer your items listed, the more careful you need to be. Here are some possibilities to do so.
For online lessons, don't forget to write down the urls altogether with the username and password.
Organize the downloaded files into the right folder once your downloads finish. If it is possible to keep the link, just keep the email and give a flag with special color.
Purchasing things on bulks really need your supervision and protection in keeping the items. Make sure they don't mess up and mix up.
Keep your purchased items in a safe place. Stationary needs a safe place that has limited access. I will not permit children take the stock without my permission when my children were younger.
Make a list of storage or directory where you keep your things. We often forget what we have already had since most of the time we purchase something because we just see that the price is cheap without thinking when we use it. Once we need the item, we forget already
Black Friday to Cyber Monday Shopping Planning printable form
Here is a form I made that may help you to plan your shopping on Black Friday and Cyber Monday. Use the chance to stock up the curriculum and to meet your other needs. Click the picture to download.
Don't forget to follow the 7 Black Friday Homeschool Shopping Tips to get the most out of the annual sales.
Black Friday – Cyber Monday 2020 sales I can share
Click the image to check out the sales pages
Nature Study Curriculum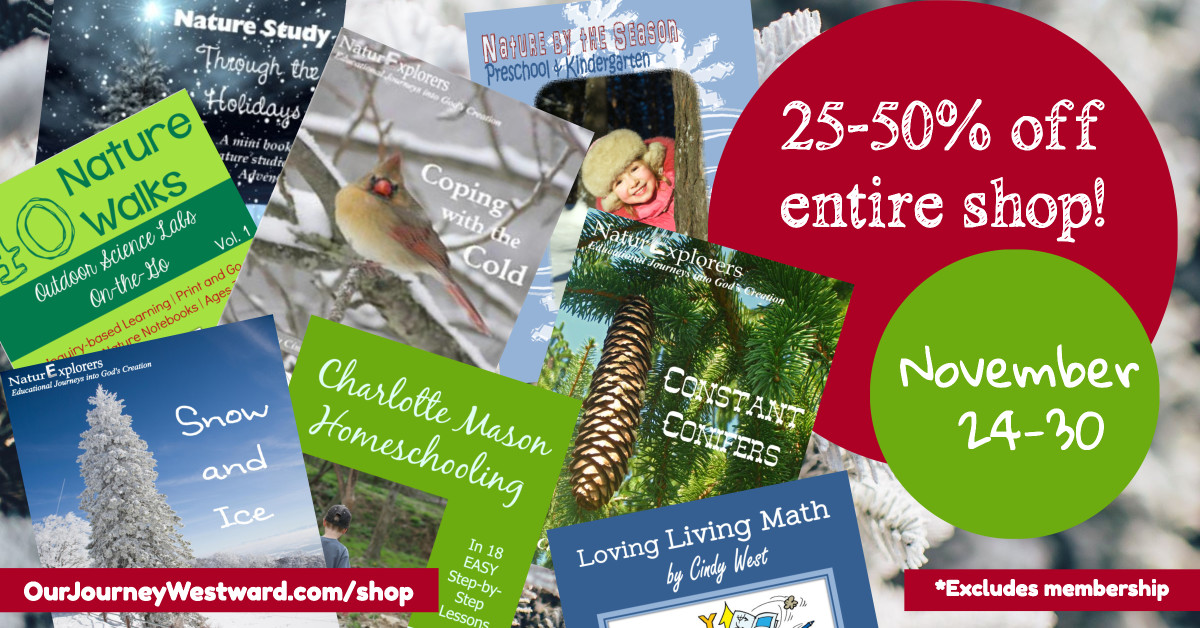 Stock up on nature study curriculum. There are topics that can be used through all seasons. The entire Our Journey Westward Shop will be marked down 25-50% off from November 24-30. No coupons are necessary.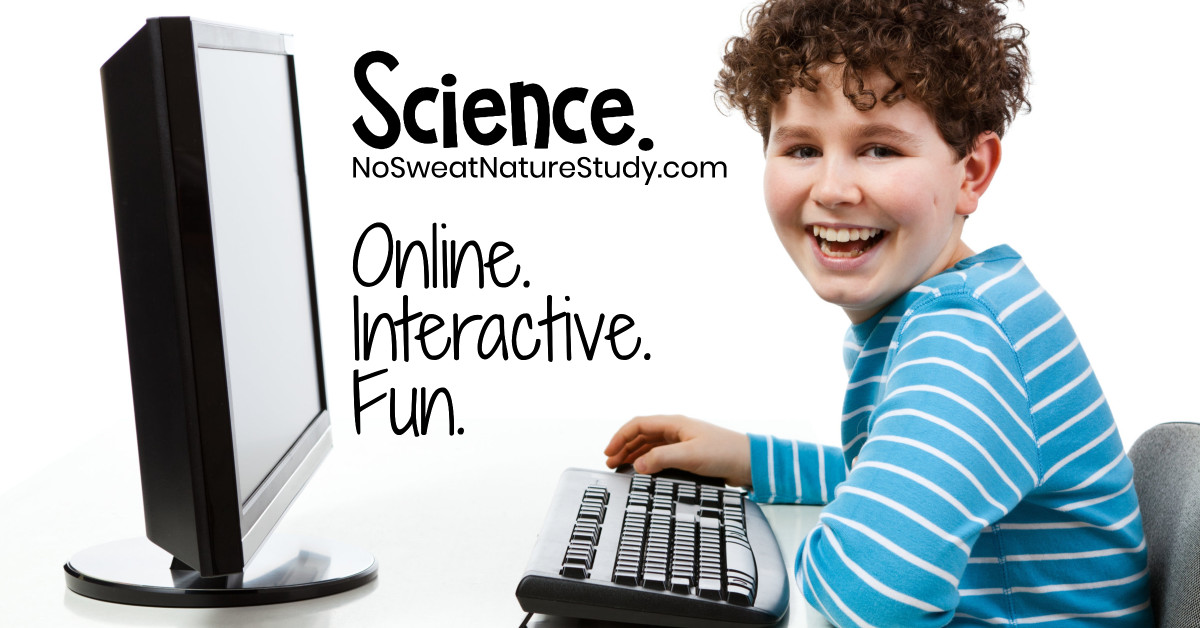 ​No Sweat Nature Study LIVE is a fun and educational gift that keeps on giving year-round!
The live classes are interactive and fun for children in 1st-8th grades. A library of more than 40 previously recorded lessons is waiting for them to use right now.
New members can get 50% off their first month of No Sweat Nature Study LIVE.
Bible Study Curriculum and Homeschool Organizers
Here are a few quick details on the sale:
⭐️ The first 100 customers today earn a thank you gift
⭐️ Free shipping on all orders over $50
⭐️ 20% off all orders under $100 (use code EARLY20)
⭐️ 30% off all orders over $100+ (use code EARLY30)
⭐️ Any other discount codes you have for referrals, rewards, or reviews can be used on top of these discounts during Not Consumed public Black Friday sale starting November 20th.
Note that you need the codes above to get your discount even though the page says it's automatic. That won't start until Friday!
Kids Cook Solo Program (Age 8+)
14 basic kitchen skills
15 professionally filmed videos Independent learning building independent cooks
12 months access, at your own pace
Kid-friendly recipes, 100% real food
Instruction directly to children with 5% adult supervision
Kids Cook Solo Program is half off for just $24.97! from Now to 2 December 2020.
Plan To Eat for Your Family
Get 50% OFF your yearly subscription to Plan to Eat during our annual sale — even if you already have a subscription! That's only $19.50 (or $1.60 a month) for a full year of organization, peace of mind, and healthy eating.
Craftsy
Thanksgiving Sale! 20% Off Classes with Code THANKS20
Cyber Savings – 30% Off with $75+ Purchase
Dates: 11/28 – 12/13
Code: 30CYBER75
Holiday Sale – 20% off Classes
Dates: 12/11 – 12/25
Code: HOLIDAY20
Happy New Years Sale – 25% off Classes
Dates: 12/26 – 1/10
Code: NEWYEAR25
Erin Condren – Hard Copy Planner
Black Friday Sale: 30% Off Sitewide (Public Access 11/23-11/30)
Fine Arts in Our Homeschool Plus
Open Enrollment for Fine Arts in Our Homeschool Plus: the high school membership experience
(FIOH+) is November 15-30, 2020. Then, enrollment will close.
FIOH+ makes it EASY and FUN for high schoolers to get a Fine Arts Credit!
With only $20/month or $200/year (annual membership gets you two months free!) you will get:
5 Full and Complete Online Courses ($345 value)
• Music Appreciation: Middle Ages Thru Classical Era course ($57 value)
• Music Appreciation of the Romantic Era course ($97 value)
• 20th Century Music Appreciation course ($97 value)
• 10 Weeks of Shakespeare introductory course ($37 value)
• Charlotte Mason Inspired High School Fine Arts course ($57 value)
• Advanced Music Theory course (Will be posted throughout the year as each lesson is filmed.
Planned to be fully complete in a year, fall 2021.)
Biblical Based Curriculum from Intoxicated on Life
Black Friday through Cyber Monday (November 27-30), the Intoxicated On Life Store is offering $10 off for any order of $50 or more.
That's ANYTHING in the store: courses, digital books, physical books, anything. Just use the code BLACKCYBER when you checkout.
Homeschool Planet
Homeschool Planet is having the second annual Cyber Monday sale. On Cyber Monday ONLY, all lesson plans (excludes bundles and curriculum) will be 20% off with code CYBERMONDAY.
Compass Classroom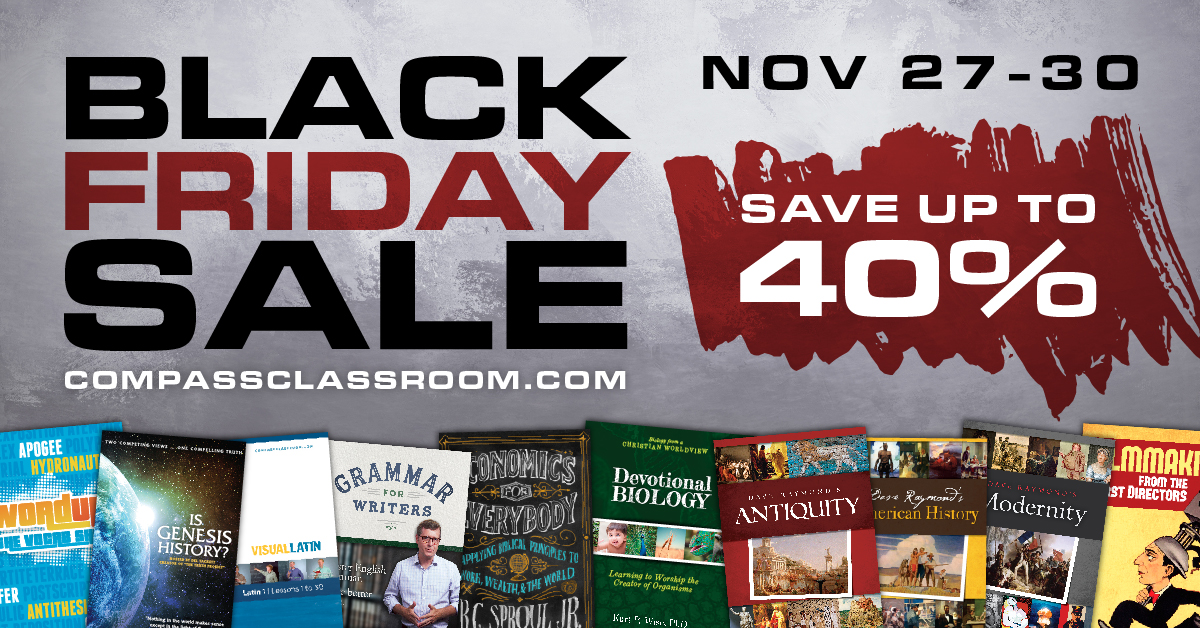 Save up to 40% from 27 through 30 November any products in Compass Classroom
7Sistershomeschool
25%OFF The ENTIRE shopping cart, CYBER MONDAY ONLY, 30 November 2020. Use code 2020Cyber25 at check out
Literature Course from Hide The Chocolate Trim the TreeSale
Don't miss the biggest sale of the year at Literary Adventures for Kids. EVERYTHING is on sale! But, hurry it ends December 4th. Use coupon code TRIMTHETREE.
Trim the Tree with savings on inspiring literature studies at Literary Adventures for Kids. All courses are 25% off through 12/4. Use coupon code TRIMTHETREE.
Mix Media Visual Arts Curriculum
Grammar Galaxy and Organized Homeschool
Proverbial Homemaker
History with Lapbooks and Notebooks from Homeschool In The Woods
Homeschool Style Co.
Notebooking Pages Membership from Productive Homeschool