We are a participant in the Amazon LLC Associates Program, an affiliate advertizing program designed to provide a means for us to earn fees by linking to Amazon.com and affiliated sites. Furthermore, this page may contain other sponsors, affiliate, and/or affiliate links. This means if you click on a link (ad) on our site, we may receive and commision. As always, opinions are my own and are sincere. You can read our disclaimer and private policy. We also have our disclosure policy.
When your homeschooling feels very dry and boring, you should find out some activities to refresh. Here are 25 Boring Homeschooling Activity Ideas to help.
Incorporate Arts
Arts usually can get people's mood back. There are several forms of arts that you can do.
Visual Arts
Visual Arts will include drawing, painting, and
sculpting. Doing the visual arts will make you focus on something else so that you will get refreshed when you return to the regular schedule. Here are some great visual art programs we like:
Mixed Media
Alisha has wonderful seasonal arts program that can give children a lot of arts experiments with several art tools. Mixed Media Arts in her shop are great for kids to train their sensory while killing the boring time. Click the pictures below to check some workshops that she has:

Besides, she also has some thematic holiday workshop:

Chalk Pastel
Chalk pastel is an alternative for drawing tools to express your feeling and to train the motor. In addition, you will be able to forget the boring routines to enjoy the arts time with kids. For chalk pastel arts, my friend Ticia from Chalkpastel.com has some seasonal and thematic sets of lessons. From her lessons, you should be able to do some chalk pastel arts like an artist. It is her motto that everyone is an artist. Click the picture below to check out.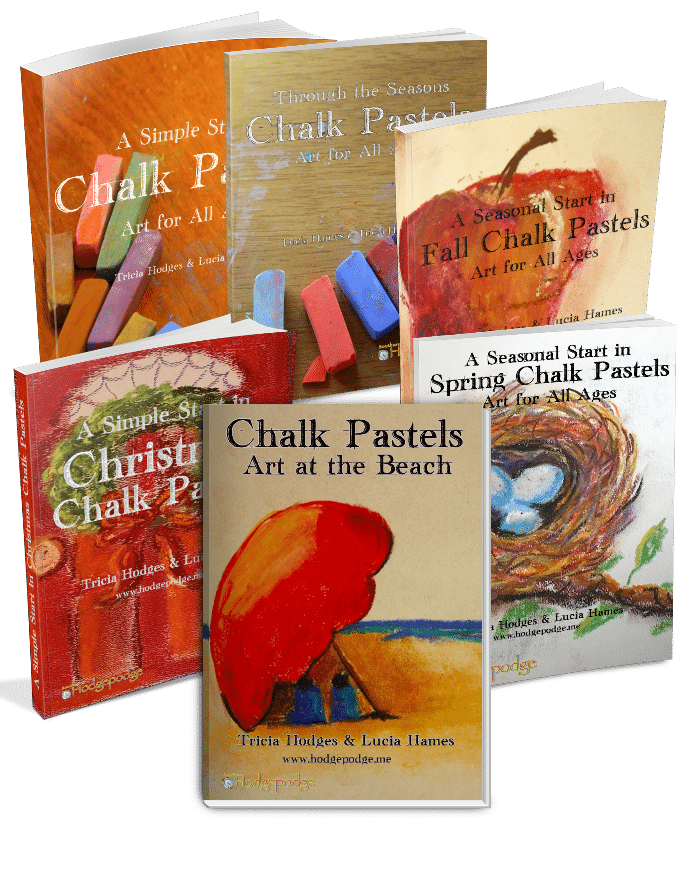 Music and Movement
With different approaches, singing and dancing will help everyone to use the energy and will get more focus after you release your energy and express yourself. Some extra activities in music and movement will be an advantage
Singing Ideas
National anthems
Folk Songs
Worship Hymns
Karaoke
Original Soundtracks
Musical instrument will be a great entertainment to kill the time as well. If you are interested in learning to play guitar, Gentle Guitar will be an alternative to learn music from a professional without spending much time and energy.
Dancing Ideas
Ballet
Hip hop
Traditional or folk dance
General modern dance
Outdoor Activities
Arrange a Field Trip
A regular schedule for field trips will reduce your boring days. At the same time, you can learn and enjoy some things with your children outside your regular schedules and learning place. You can arrange the field trips together with your children. Brainstorm some places for you to do the field trips:
Museums
Factories
Farms
Public places, such as post office, market, etc.
Landmarks, such as monuments, statues, and any other important objects in your city.
Travelling
We don't need to have learning purposes to go to places. Going to places just for fun is also great to refresh ourselves from the routines of homeschooling. Browse some great travelling places with your family. Here are some ideas of places you can go.
Recreational places
Beaches
Mountains
Forest
Other cities
Overseas
Community Service
There are also some times when the theoretical knowledge is boring and children don't get the ideas out of them. Older children might go for a community service or a part time job to get involved in the society. You can find out some possibility for them to work with the community helpers. Try to match it with their suitable ages so that children will get better experience of work. Here are some examples:
Helping the post man
Helping the fire fighters. I don't know what kind of help, but it might be available.
Helping the traffic policeman
etc
Make an Outbound
You can also have some physical challenges with your kids in any outbound grounds. You can also enjoy some adventures activities such as:
hiking
trekking
flying fox
paint ball
climbing
etc
Camping
You can also combine the outbound activities with camping. Well, we love camping, but our camping level is suited to the kids readiness in independence.
Purchase or rent some tents
Prepare a barbecue
Have some campfire
Go for Swimming
Swimming doesn't need any hard preparation and you can train you physic as well while socializing with others. With a better blood circulation, you can get back to the routines better. Plan your swimming with others as well. It will be more fun.
[social_warfare]
Hobbies/DIY
Cooking or Baking
Cooking and baking are wonderful activities to do at home with children to put yourselves away from the normal routine of homeschooling. Get some recipes, check the ingredient stocks, count with children, distribute the work and there you go. You will see how these activities are fun and useful:
You can train cooperation with children
You will practice counting and measuring
You will have more stocks of food or things to eat together
You will learn new skills as well.
Here are some recipes you might want to try with your children. I collect them in my Pinterest. You might follow the board to get more updates
Follow Blessed Learners's board Blessed Food and Recipe on Pinterest.

Create a New Game
Instead of playing the games that you might have had, you can also challenge yourself to create a new game by either individually or together. You will be surprised on how creative you are and your children. You might not have any schedule or time for doing this in your routine homeschooling, but get out of schedule for some chances will make you refreshed.
You can create some
physical games with movements
board games
simulation
Make a Puppet Show
Puppet show is one of my children's favourite activity. Even when they have grown up as teenagers right now, they still love this activity. We don't purchase any stuff for doing this activity and it has already been fun. But these stuff below will look very fun to do the puppet show.
Learn Origami
Origami should be included into an arts also, but it is also a hobby. Well, with origami we can learn to follow the instruction. Children will also train themselves for being tidy and focus. At the same time, children are happy to get various shapes of origami they can display or play around.
Plant in The Garden
Gardening is a great activity for you to get away from the boredom. The smell of nature will freshen your body and mind. You also can make up your home and garden. Outdoor gardening might be possible mostly in certain season in your location, but it will be a great activity. You also can have a mini greenhouse at home to ease your gardening

Change the Methods
Boring homeschooling might be caused by the method you use that doesn't match or is not suitable with your recent condition and needs. In this case, here are some activity ideas you might need to follow.
Homeschooling Method Shift
You can change your homeschooling method temporarily or in longer time, even permanently.
If you feel unschooling is not controlled anymore, you might combine it with classical or Charlotte Mason. It will be more eclectic.
On the other hand, if you think that kids cannot enjoy any classical methods and you get stress for it, changing to a more loose method can be an alternative.
Rearrange The Room
You might also get bored because of the room arrangement and position. For yhis situation rearranging or repositioning the room can be the best way out to raise your mood and enthusiasm.
Tidy up the room by decluttering
Get some ideas and models of homeschool room
Discuss your planning with children
Here is our Pinterest boards for homeschooling space to get inspiration:
Follow Blessed Learners's board Homeschool Space on Pinterest.
Get More Hands-on Activities
Sometimes you might not aware that your children have worked on too much on the paper work. It also happen to me. Then, a sudden you just feel how boring your homeschooling has been. If you have upper elementary children and middle schoolers, you might think that hands-on activities are not important anymore. They will have paper work most of the time or even all of the time.
When boring homeschooling strucks you, why don't you alternate the paper work with hands on activities. Try to think more real life matters related with the concept in the paper work that children should have done.
Make a life simulation based on the problem
Get some arts amd craft materials to create physical models of the concept
Sell or Show Something
When you have boring homeschooling days, you might want to leave it for a while to have some business or show off.
Leave your school work
produce something (real or artificial)
plan a real or pretending business activities
sell the products for real or simulation
Learn from the activity
If you prefer to show off some performance, you can find or browse some events to join or you can create your own. Here are some ideas
Science fair
Performance arts show
Cooking demo
When you don't find any event to join, why don't you plan with your children in your own scale.
Do Some Physical Exercise
Physical exercise will be helpful to repair your blood circulation and your mood. It doesn't have to be outdoor activities. You can have some regular activity with kids for your own and their health sakes. Family Time Fitness is a wonderful program to help you organize the Physical Education program.
Make A Break
Play Kinaesthetic Games
Kinaesthetic games would be great for families with many children. However, it doesn't turn off the idea when you have an only child or a couple of children. You can invite your relative or even you can play with them. Here are some simple ways.
sprint
tag war
hide and seek
cycle race
paddle
Do you have any kinesthetic games to play with children? Play some kinesthetic games with your children to kill the boring homeschooling time #homeschool
Play Board Games
Board games are great ways to avoid a lot of space occupation for any activities. Playing board games can be an option to have some break in your boring homeschooling time. Have some fun with your children or just let them play while you finish your business that make you cannot concentrate with your homeschooling. Here is our Pinterest board for some educational Board Games. Make sure you follow it to get updates:
Follow Blessed Learners's board Resources – Board Games on Pinterest.
Play Cards
Playing cards can be considered as board games. Since it doesn't have any boards to use, so I just separate it from board games. A set of cards is very portable and you still can use it for educational purposes. Here are some links you might like to give alternative of card games you can play with children:
Challenge Each Other
You don't have to have a game to challenge each other. Even cleaning your drawers can get you challenge each other. For any activity you do with children, it can be more alive when you can challenge each other. Your homeschooling can be boring because you have not enough challenge. You can make challenge to make it more alive.
Get Social
Having some conversation and building some relationship sith others will be also one way to make your homeschooling more alive. You might have not maintain the balance of homeschooling and social life.
Make a Playdate
Have some appointment with friends to arrange a play date. Younger children love to visit each other, but older children will like also watching movie in cinema or walking around outside. This way will definitely make you more refreshed in a while.
Have some Chat
You can have some personal chat with your children while leaving away your routines in homeschooling. Talk heart to heart and listen to them:
What they think about homeschooling
How the suggest to deal with the boring time
Their opinions about scheduling
etc.
Find And Write to Pen Pals
Have a regular time to write with the penpals will make your children more directed in their maturity. They will also learn from other people. If you want to, you can also have some written conversation with online friends to increase your motivation.
What do you do when you get bored in homeschooling?