Sex is a sensitive subject for everyone to talk in some parts of the world. Many parents are still not confident to introduce the topic to their children. On the other hand, the world cannot stop sending the information and messages about sex naturally. Will your children accept the right information and messages about sex? Will they receive the wrong information and messages about sex? How to avoid it?

Where The Wrong Information Comes from
You might have homeschooled your children to avoid the wrong sexual information and messages earlier. You might not have any TV cable subscription at home. However, the information about sex will actually turn up finally.
The Media
There are many social and entertaining media available right now for people to access directly or indirectly. The wrong information about sex can be delivered easily to the children through the media. Your children might not have any purpose to access the information. They might just browse the internet for an educational information. Unfortunately, some advertisement might turn up and children have some negative interpretation toward the information. For example, a younger boy who sees an advertisement of a young woman might have got some misinterpretation about the different body shape and accessories she has.
The Mall
The department stores usually have model dolls to display the clothes around. Some dolls might be covered by clothes, but some of them might still be naked. It will trigger some sexual thought in your children's mind. Even when they are not naked. Just looking at the well-shaped body might have presented nasty interpretation. That is just one example of how malls can be a source of the information.
The Movies
Rarely a modern movie doesn't show any sexual action. Even the cartoon movies that your children often watch contain some sexual gestures or action we cannot avoid. Let's take an example, the story of Mickey and Minnie usually show the special relationship between male and female. Many princess stories will lead into early maturity in the little children's mind about the sex information. However, the information they receive doesn't always the positive one.
Relationship with Others Around Children and Other Places Unexpectedly
There are many places and occasions where children can get wrong information or message related with the sex. They might be surrounded by good people, but the presence of satan is everywhere.
Those wrong information or message about sex is usually derived from their own mind. Therefore, it is a hard job for parents to shape a good mind regarding the sex information so that children will be able to think and behave positively.
Why Parents Should Talk Earlier About Sex
Sex is beautiful
Sexes are the creation of God. Children are also the products of sexes. Introducing sex to children in the sex education properly will make them admire God more.
The Wrong Information and Messages are threatening
It is impossible for us to avoid the misleading situation and condition that will make children do abusive action such kind of pornography, free sex practice, unexpected pregnancy, etc. Although your children don't do that sexual action, the wrong information and messages about sex will disturb their mind in any way. It just depends on how far your children absorb and interpret them and they are still abusive.
Parents want to be the dominant voice
I believe that every parents want to be the first person children get the information about sex from. Some parents might be ignoring or a procrastinator, but I still believe that you don't want to feel sorry for being late.
Children will be much closer with parents
Not every child is an extrovert. Many of them will be shy or feel embarrassed to talk with parents when it comes to the topic of sex. Many parents will also try to avoid the discussion of sex as they feel it is a taboo with the subject. Parents might also feel that they (parents themselves or children) are not ready with the discussion. Therefore, the subject of sex is usually hidden or buried inside minds. It is a great chance when parents are still able to avoid this topic, but children might have some action taken:
a. They will keep quiet and try to hide the subject inside their mind too as what parents do
b. They might try to dig for the information from other media or other people and they will fall deeper when they get more wrong information
c. They will decide some abusive action based on the misinterpretation
All of the children who take those action will feel grateful to their parents when they can hear their parents open the talk or give wise response toward their inquiry about sex. They will be much closer with parents as they will consider them also to be their best friends.
Sex is something natural
It is not only human that has the subject about sex. All living creatures as God's creation have some topic about sex. Even when we don't talk in a special topic about sex, we still have the fact that male and female present in many living creatures and they have some action to do to reproduce the young. Children will also see pregnant women and naked babies. They will finally ask questions. Therefore, parents should not be discouraged to open the talk about sex with children earlier.
Children will also experience the changes of their physic due to the puberty
When children are informed in the right time, they will not feel shocked about this changes. Even, they will be prepared for this physically and emotionally.
How To Avoid The Wrong Information About Sex Education
There are some approaches you can use to deliver the sex education to your children:
The Biblical Approach or Religious Approach
Sex can be discussed using the approach of religion. I am not sure about other religion. Well, as I am a Christian, I would like to talk with my knowledge about the scripture. There are many occasions and facts in the bible that directly and indirectly involve sex as a subject. It was started with the first humans, Adam and Eve, to Jesus and after that. The biblical or religious approach will lead children to have good morale and attitude toward sexes as the creation of God.
The Scientific Approach
The scientific approach will be suitable for children from 6 years old in the simple to more complex way in step by step. It will help children to be more logic in thinking about the sex. Once again, the logic facts will still lead them to the creator of sex, God.
There are many resources to use to approach the sex from the science points of view. You might visit a post I wrote:
Human Reproductive System and Sexual Education
The Natural Approach
We can give sex education for children naturally by discussing some sexual facts that kids meet. For example, when they see a pregnant woman or when they see babies taking a bath. This natural approach should be backed up with both religious and scientific approach to get the positive attitude with the scientific and religious backgrounds as well.
Introducing The Sex to Christian Children 6-12 Years Old
Today I am very excited to share a great resource for Christian parents to introduce sex education to children 6-12 years old. I received the product for free. I am an affiliate of this product, but all opinions are honest since I am not required to post a positive review.
There are a couple of books written by Luke Gilkerson in The Sex Ed series that will be very helpful for parents to deliver the sex education:
The Talk: 7 Lessons to Introduce Your Child to Biblical Sexuality is intended to introduce children 6-10 years old to the biblical sex. This book was published a couple of years ago. Here is the review I wrote for this book.
Changes: 7 Biblical Lessons to Make Sense of Puberty is the sequel of The Talk. Changes is more intended to introduce children 8-12 years old into puberty so that they will be ready when the time arrives.
Lesson 1: Just Like Jesus: Growing in Wisdom and Stature
Lesson 2: Puberty: Just One of Many Changes
Lesson 3: Hormones: The Catalyst of Change
Lesson 4: Girls and Boys: Changes We Can Both Expect
Lesson 5: Girl Changes: Becoming a Woman
Lesson 6: Boy Changes: Becoming a Man
Lesson 7: Changes in Desire: The Goodness of Sexual Attraction
This book has well-balanced components explaining changes in puberty from the scientific, biblical, and personal points of views. All of the components are distributed into 5 parts in each lesson to explore:
Opening Thought. It is the introduction to each of the topic. Parents and children will not feel awkward in starting the topic. This part will make the discussion smooth and clear in concept.
Scripture Reading. The scripture reading activity is followed by more detail explanation written in this part. As a result, parents will have better points to pick from the scripture related to the changes in puberty.
Talking Points. It has several critical points to discuss with children. The points discussed have some science backgrounds connected to the biblical concepts as well so that they sound more logical.
Questions for Your Child. In this part, parents will listen to children's experience in the changes regarding puberty or their conclusion about the previous discussion and scripture read. In some lessons, parents also have a time to share their experience as well.
Prayer. The lessons are always closed with prayer thanking God for the great gift and asking for God guidance to children during the period of puberty.
I really love this books as they are very helpful for me to introduce children to the sex topics and I would like to recommend all Christian parents or grandparents or parents to be to have these books to introduce children into the sex subjects.
How To Get The Books
The Talk and Changes are available in the electronic and printed edition. They are bundled together in Intoxicated in Life store (and they are discounted by $2 when you purchase together). Also, Luke and Trisha have graciously offered us a 10% discount coupon for either Changes or the 2 books bundled together. Enter BLESSED10 at checkout), but only through November 5, 2015! If you are at all interested, I highly encourage you to check them out by clicking the picture bellow: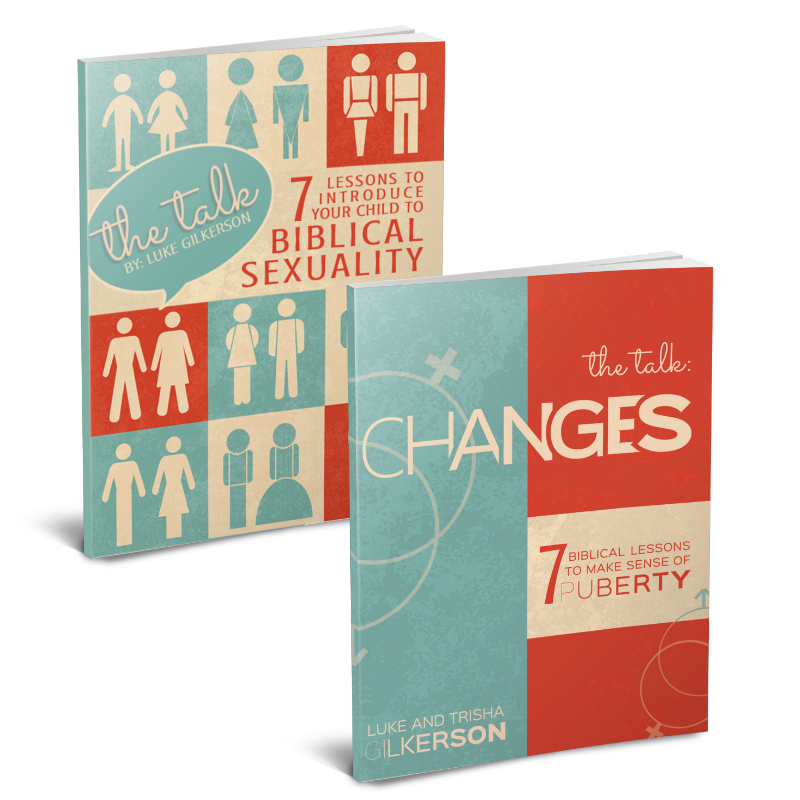 You might also available separately in the Amazon. Here are the books with the same author: