It's often very easy to find Nature Study options when you live in a rural area, but what happens when you're homeschooling in a big city? Living in an urban area doesn't exactly open up the doors to going outside in your backyard to do a nature study with your homeschool students. Today I'm sharing a few ways to do nature study when living in a big city so that you can find ways to make this part of your homeschool curriculum work in an urban area.
Well, books and online resources are great supplements to do nature study. Here are some products that might help you: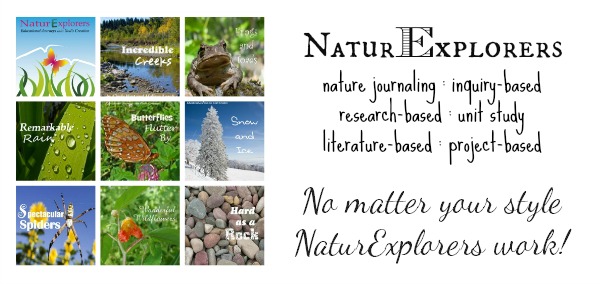 Handbook of Nature Study
The Handbook Of Nature Study in Color – Trees and Garden Flowers
The Nature Connection: An Outdoor Workbook for Kids, Families, and Classrooms
Nature Anatomy: The Curious Parts and Pieces of the Natural World
The Laws Guide to Nature Drawing and Journaling
7 Ways to do Nature Study When Living in a Big City
Saltwater Fish Pet Stores
Walk on the Street and Neighborhood
There might be fewer natural places to do nature study in urban areas than the rural areas. However, you still can get nature study objects on the street. You might stop your car on the safe side of the road to walk around the residence or neighborhood to enjoy the flowers and plants and study the features. Get kids to draw or feel while breathing the fresh air. Then, you can continue the study at home to get more references from other books and online resources.
Put Nature into Displays
Get a poster or a model of nature subjects kids are interested to study. Display it inside your house. If you can get the model, kids will be able to touch it. Then, they will be able to explore the parts and features. You can get unlimited resources to work on nature study when you can get the displays.
Plant Them
It is not easy to get plants as instant nature study objects. You can visit either the public parks or the community garden, but it might take time to go to the places for some conditions. In addition, there is a situation that kids will need to observe the plants in more detail. Thus, there isn't any easier way to work on this case, which is better than planting them at home. By doing this, kids can learn gardening at the same time.
The problem is you might have a limited area for gardening. Just use whatever you have. Gardening doesn't have to use large space to work on. You can use other media than soil to do gardening. Hydrophonic is great for urban farming. My son started to fall in love with plants by doing hydroponic gardening when he was in middle school. He takes an agrotechnology major in college.
The Urban Farmer: Growing Food for Profit on Leased and Borrowed Land
Raised Bed Gardening for Beginners: Everything You Need to Know to Start and Sustain a Thriving Garden
Field Guide to Urban Gardening: How to Grow Plants, No Matter Where You Live: Raised Beds • Vertical Gardening • Indoor Edibles • Balconies and Rooftops • Hydroponics
Vertical Gardening: Grow Up, Not Out, for More Vegetables and Flowers in Much Less Space
Hydroponics and Greenhouse Gardening: 3-in-1 Gardening Book to Grow Vegetables, Herbs, and Fruit All-Year-Round (Urban Homesteading)
Urban Gardening: Everything You Need to become a Self Sufficient Urban Gardener and Flourish your own City Apartment Vegetable Garden
Purchase and Study
You can purchase pets, insects, fish, or other nature to take care of at home. At the same time, kids can study the objects by observing and recording in the nature study journal.
Hatching the insects, reptiles, and fish eggs is a way to study the animals. Kids can observe the growth of the eggs until they hatch, then they can continue with the babies. Kids also can release the older animals back to nature when they have finished their studies.
For bigger animals, kids can learn how to pet them. Thus, they can learn about them by observing parts of their body, their manners, or behavior. By doing so, kids can learn how to pet and to love the animals as parts of nature.
Community Garden
Botanical Gardens
Drawn to Nature: Through the Journals of Clare Walker Leslie
Plant Life in Field and Garden (Yesterday's Classics) (Eyes and No Eyes Series)
Karen Andreola's Pocketful of Pinecones: Nature Study with the Gentle Art of Learning: A Story for Motherculture by Karen Andreola (1-Oct-2002) Paperback
A Nature Study Guide (Yesterday's Classics)
How to Teach Nature Journaling: Curiosity, Wonder, Attention
How to Keep a Naturalist's Notebook
Nature Journal: A Kid's Nature Journal