We are a participant in the Amazon LLC Associates Program, an affiliate advertizing program designed to provide a means for us to earn fees by linking to Amazon.com and affiliated sites. Furthermore, this page may contain other sponsors, affiliate, and/or affiliate links. This means if you click on a link (ad) on our site, we may receive and commision. As always, opinions are my own and are sincere. You can read our disclaimer and private policy. We also have our disclosure policy.
Sexual education is one thing that often makes parents worried when it is the time they need to give to their children. Sooner or later the time will come that you cannot avoid the sexual education anymore.
Sexual education has several stages, started from the simplest, scientific, moral to much more complicated ones. How early is a sex education started? The answer is very simple that it should be given as early as possible.
Sexual Education in Kindergarten Levels
Children in the kindergarten to early elementary grade level should be able to receive the sexual education toward some extent. Older children will need more scientific information regarding the sexual education as well as the moral and social message. At the same time, it is not impossible to give Sexual education in kindergarten levels

Why Children Need to Know Their Origin in Young Age
It seems there are more reasons for parents to start the sexual education for the teenagers or children who are almost stepping on the teen ages. However, there are also some trivial and simple reasons to give sexual education as early as the kindergarten levels.
Children will be more grateful
When the young children know how they grow from the very beginning of their life in the mother's womb, they will feel grateful for what God has done to them. In some cases, this grateful attitude might not come by itself, so that parents need to encourage the young children. However, some children just show deep gratefulness spontaneously once they know how the tiny seed inside the mother's womb has grown up very well with the blessing from God.
Children will be more careful
When children know how delicate and powerless the little life growing in the mother's womb, they will have some ideas and attitudes toward pregnancy. They will treat pregnant moms more carefully. They will be helpful as well.
Children will be more respectful to life
In a well deliver sexual education for children, children will be taught how to respect to the simple little life, even when they have not been born yet. This will prevent the growth of abortion practice when the little children growing up.
They will get the answer
You might have ignored the little children's questions regarding pregnancy and answer them with very simple answerThere is a baby in the lady's tummy.
That will make them disappointed when they have another question (usually they have plenty). For the curiosity, they might get the information from some irresponsible sources when their questions are avoided
As a Foundation to Social Life
There are a lot of threats and temptation in the real life to sexual harassment in the real life. By preparing little children with how precious life is, they will be more prevented from the real life facts.
To teach the younger age children about the sexual education in Kindergarten levels, there isn't any better resource than this picture book. Wonderfully Made: God's story of life from conception to birth is written by Danika Cooley for the little children. Like the complete title, this book has the story life from conception to birth with the biblical approach.
I don't have children in kindergarten levels, but I would like to say that this is the best book ever to use to introduce sexual education in the Kindergarten levels with Christian perspective.
Book Description
Wonderfully made is an excellent book that introduces a young child to the wonder of God's creation – the wonder and miracle of birth. From conception in the womb through the nine months within the mother's womb Danika Cooley takes us on a journey of discovery… the discovery of life. "For you created my inmost being; you knit me together in my mother's womb." Psalm 139:13
Author Bio
Danika Cooley is a married mother of four, a grandmother, a blogger, a curriculum developer, and a writer. She homeschools her two youngest children in Oregon. Danika's three year Scripture survey for preschool to high school, Bible Road Trip, is used across the globe.
What we like
This book has a story language which is perfect for the younger ages.
It is impossible to explain how the life grow before they can read, write and comprehend anatomy pictures in most cases. This book is in the form of a story. The life from conception to birth can be divided into several parts to avoid boredom.
This book has the biblical approach.
In each written story, there is a scripture verse to get indepth into the spiritual or religious messages. You can follow up with some copywork and decoration if your children are interested to that activities. You can avoid it if you are non-Christian.
The friendly and simple analogy
The growth of the "baby" is described with some analogy in real life, including the size. Therefore, the young children will have no difficulty to imagine the size and models.
All aged-children can join
Reading the language, I think this book is most suitable for the kindergarten levels. However, at the same time, my elder children also enjoy the chronological growth of the story
It has great pictures
The image are wonderful. Thank you to the illustrator, Jeff Anderson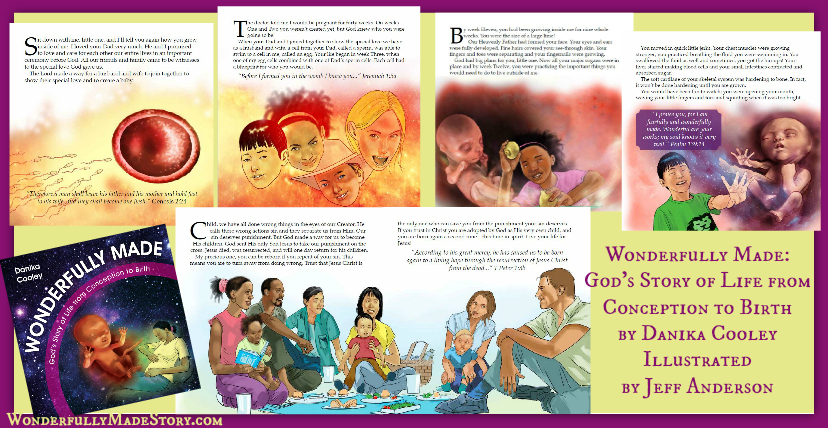 Recommendation
This book is really recommended for:
Kids at 5-11 years old
Christian families
Anyone who has difficulty in more scientific explanation yet.
How to Get The Book
You can get the book in either hard cover and kindle version in Amazon. Click the image bellow to check it out.