We are a participant in the Amazon LLC Associates Program, an affiliate advertizing program designed to provide a means for us to earn fees by linking to Amazon.com and affiliated sites. Furthermore, this page may contain other sponsors, affiliate, and/or affiliate links. This means if you click on a link (ad) on our site, we may receive and commision. As always, opinions are my own and are sincere. You can read our disclaimer and private policy. We also have our disclosure policy.
The time is flying very fast that my children are teenagers right now. I have been too busy thinking about that. I thought that childhood would still had a long time. The unforgettable moment happened when my eldest son turned into 11 and my middle son was turning into 10. We discussed a lot about the human reproductive system.
Challenging Sexual Education Questions
There are some questions my sons asked related with the sexual education. They make me aware to stay calm down answering those and to find ways to explain them appropriately:
When the explanation came into the new individual baby who is made out of blended single sperm and ovum, there came a question about how the sperm can go to the ovum. I was so nervous explaining about the making love done by adults who has got married (in our culture) with great responsibility and love. I emphasized that God made all the creation of human and everything was so incredible since a baby was just a cell which split and split. We also emphasised the importance of being thankful. It was surprising that finally I could answer it with a well acceptable explanation. My sons began more serious.
They showed the appreciation toward life a lot when they asked more about abortion and miscarriage. I could see from their response which is very concerned, thoughtful, and worried. We start a great discussion about that topic.
They also asked a lot about baby or foetus nutrient got from the mother. Then our discussion was driven into healthy food for pregnant mother and the magic of creation. They were curious how the human reproductive system is related to the digestive system.
Their most difficult question was when it comes to making love matter, including kiss, hug, and relationship. I tried to explain this topic seriously and on the right track. I told them that they should not think further. Only a man and a woman who have got married as they love each other can do that. They can take the responsibility being parents. What they need to do right now is just getting healthy relationship, pray, and do things positively until they get ready.
The next question was about readiness to get married and to be a parent. We brainstorm about the responsibilities and right as parents. This is a great discussion. We talk a lot about the consequence of having children, bring them up, making money. Even I asked, "What do you think if you were a parent of a kid like you are right now?"
In the weekend, we drove passing a discotheque. My son asked what does the sexy girls do on the billboard. Our heart (my husband and I) were thumping hearing such question. I asked him what made them look sexy he thought. Next I asked what should that parts are doing and what are the functions. Finally I asked whether it had been appropriate for them showing up like that. He concluded by themselves that the women tried to get money by attracting men. It surprised me that he could come to the conclusion by themselves. My second son continued with his conclusion that we need to be careful to the trick and to choose proper girlfriend.
Those are just still a few questions following the human reproductive system.
What kind of questions do you anticipate for this topic?

Have you got any similar experience and what did you do?
How Should Parents React to The Questions?
Many parents are still not comfortable toward sexual education questions. Parents don't want to have some initiative action to give early sexual education before children ask the tricky questions and find out the answer from others. Parents often think too much to start the talk with children.
Lack of confidence
There are usually a lot of factors for being not confident to give sexual education to kids, especially the younger ones. The culture and education backgrounds of parents give some effects to the confidence. Parents often think too hard to get the right sources and foundation to deliver the sexual education to children. For me, there are 2 strong resources and approach parents can use to give more confidence:
The Science Background
The Religion Background
With those approaches, the sex ed will not be embarrassing anymore. The science background will give a natural logical explanation to children. On the other hand, the religion background will give spiritual and mental foundation to children to give stronger attitude toward sexual matters
If you are Christians, you need to involve the bible in the children's sexual education to let them know that it is precious. There are many biblical events that can give sex education to people. Here are a couple of sexual education with biblical approach that you might want to check out.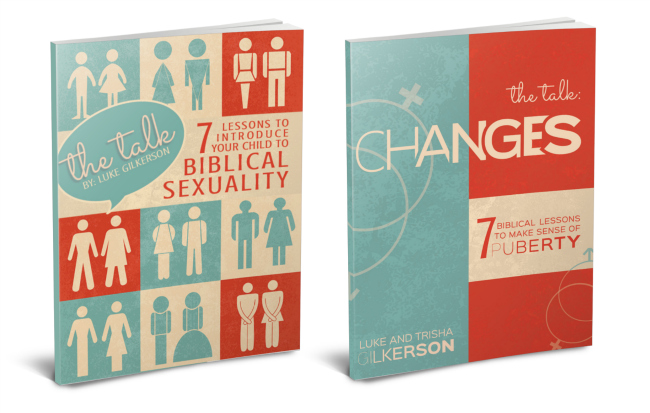 Lost of innocence
Parents are worried to start the early sexual education since it might cause the lost of innocence of young children. Parents often underestimate the readiness of children in the sexual education. In fact, innocence is a function of attitude, not information. When parents deliver the sex education properly, children will receive it appropriately as well.
How To Deliver Sexual Education
Every parent has different background and approach preference to deliver sexual education and to answer the sexual education questions. Parents might have not thought about the sexual related questions and they get shocked and confused how to handle them once they get the questions. Then, it is the time for parents to educate themselves to learn how to deliver the sexual education to children or to prepare answering the tricky sexual education questions.
For this purpose, Luke and Trisha Gilkerson from Intoxicated on Life create an online video course that will answer over 30 concerns and questions about how to deliver sexual education with biblical approach. There are 8 lessons and several precious resources you will receive along with the main course. Click the image below to check it out.